Consumer Benefits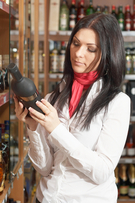 Why are distributors important to consumers? Because Ohio has produced a beer and wine market that is highly efficient and extremely responsive to consumer needs. Service and selection are primary goals of every distributor who delivers beverages to your local retailer.
Ohio's three-tier system has helped make beer and wine extraordinarily competitive: Thousands of brewers and vintners can bring their products to market at Ohio's some 23,000 retail outlets at fair market prices. Consumers benefit by having the choice between the largest international brands and the smallest craft brands, all on the same store shelf, restaurant list and bar.

Protecting consumers with product tracking: The clear chain of custody created by the state-based system of alcohol regulation and distribution protects consumers from counterfiet and tainted alcohl that has routinely injured and even killed people around the globe. Distributors know where every bottle and case of product is delivered every day of the year.
Economic Benefits to Ohio and Local Communities
Ohio's beer and wine distribution industry makes a significant contribution to the state's economy, and to local economies in every corner of Ohio.
More than 4,500 Ohioans are directly employed by beer and wine distributors, and a 2008 study showed distributors paid more than $200 million in wages; collected more than $54 million in excise taxes for the state; and paid more than $75 million in business and payroll taxes.
Distributors support an additional 26,000 jobs in affiliated industries, generating nearly $800 million in wages and $23 billion in economic activity.
Revenue collection: Ohio's distributors monitor alcohol shipments into and within the state ensuring that products are tracked and taxed appropriately. The crucial oversight role they play ensures that Ohio has an accountable system of collecting alcohol taxes in the state.
Protecting Ohio's Small Business
Many beer and wine retailers (stores, restaurants and more) are small, family-owned independent businesses. By providing every retailer regardless of size with broad selection and high-quality service, distributors help protect this vibrant retail industry and ensure consumers that no matter where they shop they will find service, selection and value.
Through the Wholesale Beer & Wine Association of Ohio, distributors support their retail partners in the Coalition for Choice and Competition, which works with lawmakers to protect the interests of Ohio retailers, and through Premium Beer and Wine Specialists, a collection of nearly 200 small, independent retailers dedicated to providing customers with the highest standards of service, selection and value. Distributors also help enforce Ohio's cash law, which requires all retailers to pay cash on delivery for alcoholic beverages. This prevents large retailers from using credit and their buying power to gain an advantage over smaller retailers, and protects consumers by allowing any business with the proper license and adequate cash flow to purchase approved products from a local distributor.